The permit fee for international visitors is 1,000,000 Indonesian Rupiah (~USD 100.00)
The permit fee for Indonesian citizens and KITAP holders is IDR 500,000 (This rate is not available for KITAS holders.)
Children under 12 years of age are not required to have a permit.
The permit is valid for 12 months from date of purchase.
Jump to where to purchase.
Jump to where the money goes.
The only permit you need to visit Raja Ampat is the one described on this page. We're often asked by international travellers if the special Surat Jalan permit required to travel in West Papua is needed for Raja Ampat. A Surat Jalan is not required to visit Raja Ampat. However: Staff at many Indonesian embassies are unaware of this, look up Raja Ampat's location and then 'do it by the book', which says that all visitors to West Papua need a Surat Jalan. To avoid complications if applying for a visa at an embassy, you might want to consider not mentioning your plan to visit Raja Ampat. Nobody checks or cares once you are in Indonesia. (As long as you don't try to enter a place that a Surat Jalan is required for!)
The Raja Ampat Marine Protected Areas Environmental Services Fee Card (PIN)
This is what the 2017 international visitor permit card looks like. (There are a few different images used.) The 85x55mm plastic card will be punched to indicate its expiry (12 months from the date of issue) and your name, passport number, nationality and signature should be recorded on the back.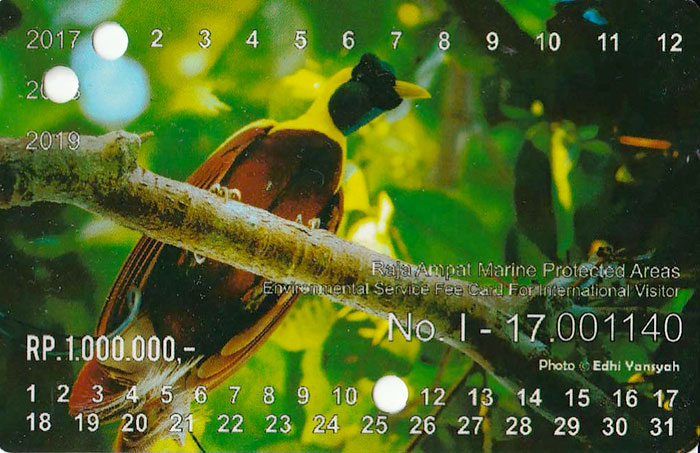 Where does the Raja Ampat entry fee money go?
Raja Ampat Marine Park entry permit fees are directed to the operational costs of Raja Ampat's five Marine Protected Areas (patrols, administration etc) and to community conservation and development programs.
Collection of the funds is the responsibility of a new organisation created to ensure the transparent disbursement of funds: The UPTD BLUD, an autonomous unit within the Dinas Kelautan dan Perikanan (the local government Department of Oceans and Fisheries).
The reason for the changes are twofold:
1) The organisation previously responsible for collection of the Marine Park fee was the Dinas Pariwisata – the local government Department of Tourism. The corporate structure of the Dinas Pariwisata provided no framework by which it could legally transfer funds collected to the intended recipients. The new UPTD, being incorporated as a BLUD entity, does.
2) The fees have been doubled in order to provide an income stream that will account for a larger percentage of the true Marine Protected Area operational costs and community development programs. Those costs are currently being funded by foreign donors – a situation which obviously isn't sustainable in the long term.
The Raja Ampat Marine Park Entry Permit tag (or PIN) has been renamed the Tariff to Support Environmental Services in Raja Ampat and must be paid by every visitor to Raja Ampat.
The information below explains the changes, why the Tariff to Support Environmental Services in Raja Ampat is charged and shows how the funds collected are used. Click the images to see larger versions.
Where to buy Raja Ampat Marine Park entry permit tags
There are three authorised distributors of Raja Ampat Marine Park entry permit cards. Some Raja Ampat resorts will pre-purchase them on behalf of guests. Homestays do not offer this service as yet. Be wary of anybody else claiming to be able to sell you one.
At the Raja Ampat Conservation & Tourism Information Center in Sorong
January 2018 update: You can no longer purchase entry permits at this office. It's much more convenient to get them at Waisai anyway. (See below.) Unless you're headed for Misool, of course. No word yet on where you are supposed to purchase permits if you're heading for Misool. We'll leave the office details here anyway, because they can still help with lots of other Raja Ampat stuff.
The Tourism Information Center is directly opposite the airport access road (see photo below).
Contact the Tourism Information Center
Manager: Amy Zarta
Tel: +62951328358
Fax: +62951326576
Mobile: +628114852033
email: info.blud.uptdr4@gmail.com
At the Waisai Port Office Ticket Booth
For everyone visiting the Dampier Strait islands, Waisai is by far the most convenient place to buy the permits.
Permits are currently being sold at the KKPD desk, next to the Raja Ampat Homestay Information Center in the port at Waisai. Both of these offices are currently in the temporary location shown in the gallery below.
NOTE: Permits are sometimes sold instead at a KKPD counter inside the big white and blue port building. If your ferry docks on that side of the harbour, it would probably be worth checking there first.
You may be approached on arrival by men checking to see if you already have a permit. They'll guide you to the office if not. Don't pay anywhere except at the office counter.
At the Marinda Airport terminal in Waisai
If you are flying in to Waisai's Marinda Airport, we've been told that you can also purchase the permits there.
At the UPTD KKPD Office in Waisai
The UPTD Office address is Jalan Yosudarso, Siwindores, Waisai. Any ojek (motorbike taxi) or vehicle driver should be able to take you there from the harbour.
The office phone number is +629513170089
The UPTD office is also the place to go to report any instances of environmental damage or illegal fishing that you may witness.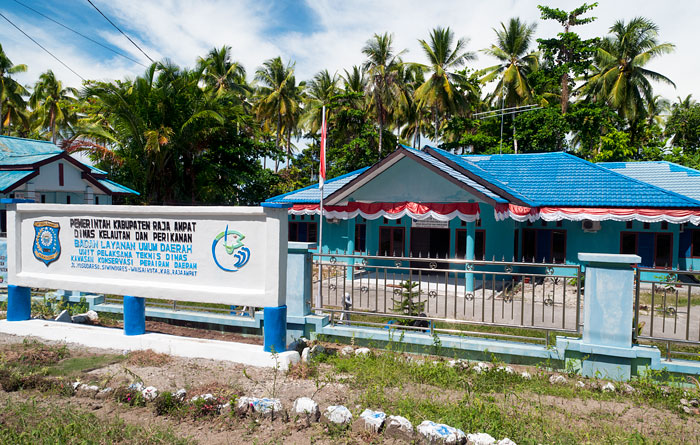 UPTD office location