There are only two official Raja Ampat entry fees that you will need to pay when you visit the islands.
1. The Tariff to Support Environmental Services in Raja Ampat, which is more usually known as the Raja Ampat Marine Park Fee, Tag or PIN. A complete description of the Raja Ampat PIN fee (including its cost, what it's for and where the money goes) can be read on our Raja Ampat Marine Park Entry Permit Tag page.
2. The Raja Ampat Visitor Entry Ticket. This is a fee that was introduced by the Raja Ampat Government in December 2019. Its purpose is to help defray the cost of installing and maintaining tourism infrastructure at the various tourist attractions in the islands. All available information about the ticket can be found on this page.
Note: For those visiting on liveaboards, there's also a separate official entrance fee based on the size of the vessel, but this is quite small and usually included in your trip price, not charged separately.
Other Raja Ampat entry fees
In a nutshell? Don't argue – just pay or leave.
At some locations in Raja Ampat you may be asked to pay an entry fee by representatives of local communities. These are usually charged per boat, not per person, and are levied at several popular locations, including at Wayag and Piaynemo.
These unofficial access fees are being charged by some village communities in an effort to derive a benefit from the ever increasing numbers of tourists making use of those communities' customary lands and seas.
The last time we visited Piaynemo, the charge was IDR 300,000 per boat, while at last report, boats visiting Wayag were being charged IDR 1,000,000 plus IDR 400,000 for the guide required to accompany you.
The imposition of these Raja Ampat entry fees is a source of irritation to some visitors, who feel that they are unjustified and exploitative. That sentiment is easy to understand, and there could certainly be better communication and transparency regarding the fees' levying: In many places (like Waigeo's Kali Biru) they seem to be arbitrary, and often vary from day to day.
But why are these 'extra' payments being demanded? Well… consider the following:
Most of the official Raja Ampat entry fee funds generated by PIN sales are directed to environmental protection and patrols of the Marine Protected Areas (MPAs). This is obviously an essential activity: It underpins the conservation effort in Raja Ampat – but it provides no immediate or direct benefit to local villages.
A portion of the funds raised by PIN sales are set aside for a community development fund jointly administered by local government and communities, but the process of ensuring that these funds are managed transparently and distributed fairly means that it will be a long time before each village will feel a direct benefit.
So imagine yourself as the inhabitant of a poorly serviced village like Saukabu on Pam, near Piaynemo: The only homestays near your village aren't in Lonely Planet, so they stand empty for most of the year, while every day you see boats full of tourists arriving to snorkel and dive your reefs and visit your lookouts and other places of interest. You know each tourist pays about USD100.00 to visit Raja Ampat, and you know that part of that money is supposed to be for community development, yet your village still has no electricity, health post or primary school. It seems that everyone is making money from your natural assets except you.
How would you set about rectifying that?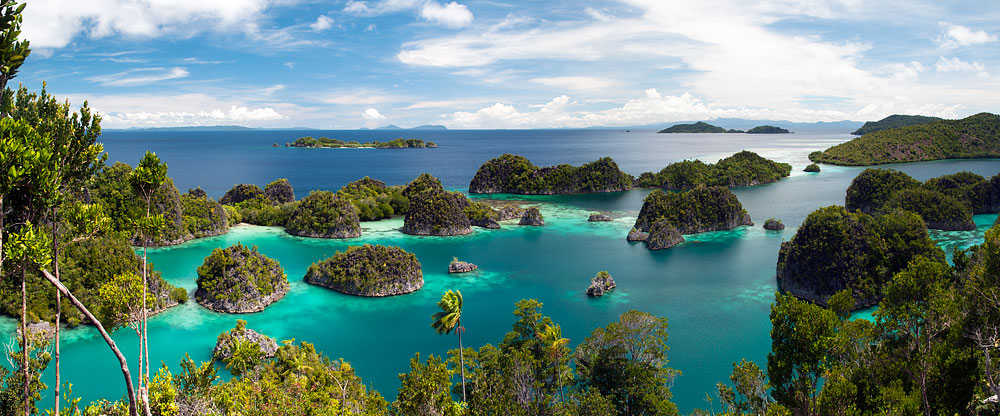 Over time this situation will hopefully change for the better as local communities develop alternative means of generating income and find ways to participate in the benefits of Raja Ampat's ever growing tourism industry.  For instance, villages near clusters of homestays (such as Yenbuba and Sawinggrai) are already feeling the economic benefit from the homestay sector.
In the meantime, we recommend you either pay what's being asked or leave. After all, unless you're a lone traveller or couple the fees are not a huge addition to the standard trip cost. Try to remember that Raja Ampat isn't a giant resort or theme park: We are all guests in the lands and waters we want to enjoy and only get to visit thanks to the welcome (conditional or otherwise) of local communities.
By all means voice your concerns to your guide or homestay owner (remembering that in most cases the fee has nothing to do with him/her) but never try to argue the point with the village representatives charged with collecting the fee. Taking umbrage and being confrontational will achieve nothing.
To avoid being taken by surprise, always ask your guide before you set off on a trip if there will be additional entry fees.
Finally, if you still strongly believe that these extra Raja Ampat entry fees are unjustified, then the best way to voice your disapproval and effect change is to simply not visit any places that charge them – it's not as if there aren't at least a thousand other beautiful reefs and islands to explore!