The Pulau Wayag seascape of conical karst islands is Raja Ampat's poster child. You won't see a tourism promotion or magazine article about Raja Ampat that doesn't feature the islands and their surrounding sapphire seas, but Wayag is not easy to get to and is quite expensive to visit. Lying northwest of Waigeo, Wayag is a round trip of over 300km (~200 miles) from Waisai. There's no homestay accommodation in the Wayag group, so if you want to visit you'll be up for a long day trip from wherever you are staying.
While the spectacular Wayag Islands are without a doubt the subject of the most commonly seen photographs of Raja Ampat and are the number one item on most visitors' lists of things to see, don't worry if you find you can't visit them – very similar iconic views can easily be had elsewhere..
Is Wayag closed?
In October 2013 Wayag's traditional owners closed public access to the islands. Although some travellers still manage to make the journey, visiting Wayag has remained difficult ever since.
Wayag's traditional owners live on Kawe and have seen little of the money being spent by tourists visiting Wayag. Tour operators bypass Kawe on the way to Wayag and none of the money being charged to visit Wayag is paid to the islands' traditional owners. Kawe has also seen little of the development assistance provided to some of Raja Ampat's other island communities. Kawe islanders are consequently justifiably upset by the fact that their traditional lands form one of Raja Ampat's biggest tourist drawcards but their community receives no benefit from the income being generated by their asset. Their decision to restrict access to Wayag was made in an attempt to force stakeholders to the negotiating table.
It could be some time before Wayag is open to the public again, especially since there is contention within the Kawe community itself about which family groups have priority claims in the negotiations.
February 2014 update: Good news – Wayag is reported open to visitors again!
Raja Ampat's Wayag alternatives
If you find you can't visit Wayag, the good news is that Raja Ampat has an abundance of spectacular scenery and two locations in particular provide panoramas extremely like those of the Wayag Islands. Both of these are much closer to Waisai than Wayag and both have the additional benefit of there being homestays available for longer stays in these island wonderlands.
Piaynemo
Piaynemo is the correct local spelling of the name of the island marked on most maps of Raja Ampat as "Penemu". Penemu is about 60km (~40 miles) west of Waisai and has a karst island seascape almost indistinguishable from that of Wayag (see the photo at the top of this page).
If you're staying on Arborek or near Sawinggrai on Gam, Piaynemo can be reached by 15HP longboat in about 90 minutes. Half that if you want to pay for a speedboat. Check out Piaynemo Homestay's page if you'd like to organise a stay at Piaynemo.
Kabui Bay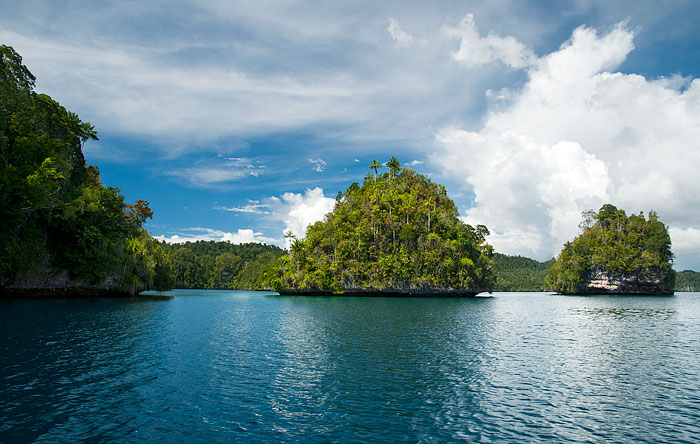 Only 30 kilometres (~20 miles) from Waisai are the karst islands of eastern Kabui Bay. These are perfect if you have limited time and want to see islands like those of Wayag. The islands are undercut cones of limestone capped by jungle and festooned with orchids. They lie clustered in the eastern arm of Kabui Bay, close to the entrance to the famed snorkel and dive site of the Kabui Passage.
If you want to spend some time exploring the islands and nearby attractions have a look at Warikaf Homestay's page. Warikaf occupies a hidden bay on the northern coast of Gam, right in the middle of Kabui's Wayag-like islands.
Wayag Tours
If you want to organise a Wayag tour, here's a few options for doing so
Check the "Wayag trips" option in the Show advanced search feature on our accommodation page to quickly find homestays offering Wayag tours
Join a liveaboard boat tour that visits Wayag
Visit the Transwisata office in Waisai and ask about joining one of their Wayag day trips
See our high resolution Raja Ampat Map to locate the places mentioned in this article.