If you're looking to travel to Raja Ampat, here's a bunch of maps that will hopefully be of use.
If you're planning independent travel to Raja Ampat, you might also want to see our How to get to Raja Ampat page and step by step guide.
Raja Ampat location map
Raja Ampat Interactive Map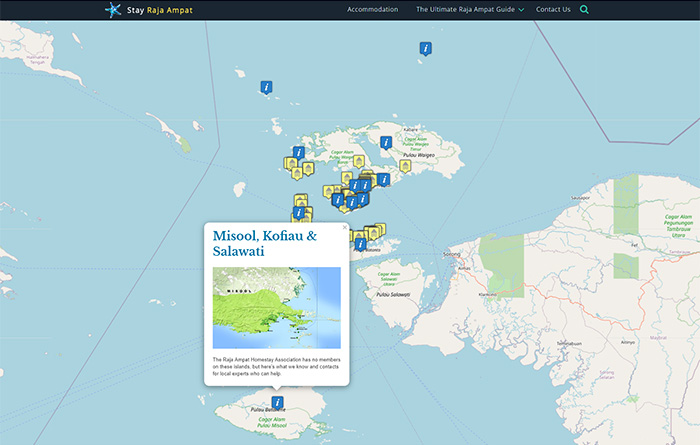 Want to get an idea of where all the islands and homestays are? See our interactive map. It displays the location of homestays and regional information. Click an icon to see an info card. Click the card title or photo to go straight to the relevant website page.
High resolution Raja Ampat Map
A highly detailed map compiled by Yayasan Basudara, this map has it all. Homestays, villages, ferry routes, points of interest, kayaking routes. Be aware that the transport data was current in April 2017 and has probably changed. The Wings Air flights into Waisai definitely have. Fabulous work Fahmy – thank you!
Click the map to open the full version (PDF 23.2MB – you'll need a fast and stable connection to successfully download it!)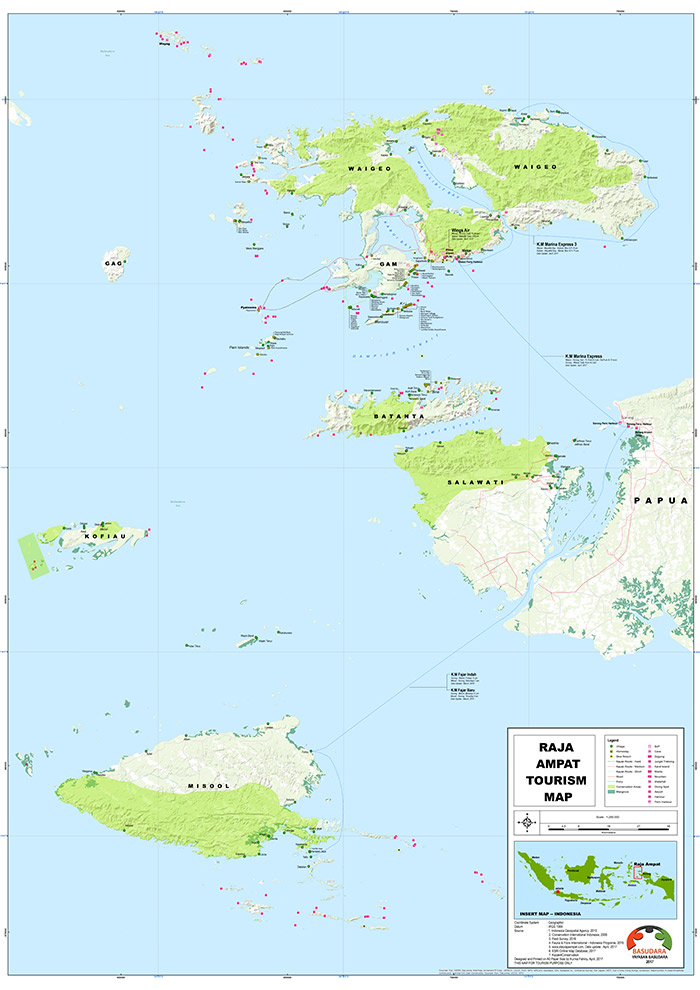 Map of Raja Ampat snorkeling and dive sites
Good snorkeling's available almost everywhere in Raja Ampat, but here's a selection of Raja Ampat dive sites selected because they have great stuff to see at snorkeling depths. Clicking on the starfish icons will show site name, location and GPS coordinates. For more information (and some video) visit our Snorkeling in Raja Ampat page. To quickly find homestays with excellent snorkeling, select "Coral" and "Good house reef" in the advanced search on the accommodation page.
If you're a diver looking for a comprehensive map of Raja Ampat dive sites, we'd suggest getting hold of Burt Jones and Maurine Shimlock's book "Diving Indonesia's Bird's Head Seascape" – it's by far the best resource available. Here's a link to their website.
Map of Sorong
If you are looking for a particular shop or service in Sorong, you might find ukka.co useful.
Map of Waisai
Other maps of interest
Raja Ampat Marine Protected Area map at rajaampatmarinepark.com
Raja Ampat ethnographic map from Indonesiatravelling
Raja Ampat nautical chart of unknown provenance (this version from Trek Papua)