---
June 2022 COVID update: Raja Ampat is open, and most homestays are accepting bookings. Visas on arrival are available at most ports of entry. See this page for more detailed information.
---
1. Use the accommodation page search filters to quickly find homestays with features that are important to you. (You can apply more than one filter at a time.)
2. See the guest reviews at the foot of each homestay page to help decide where you want to stay.
3. If you have any questions that are not answered on a homestay page, please just ask.
4. If you want to check availability, or request a booking, submit the booking form provided on the homestay page. The total cost of your stay will be displayed when you have entered the number and type of rooms, the number of adults and children, and your dates. Note that prices change according to room type. ("Prices from" are quoted on the basis of the cheapest option offered by a homestay.)
5. Only request a Waisai pickup from the FIRST homestay you want to stay at. (There is no need to return to Waisai, as you can easily arrange onward transfers with your host after you have arrived, or you can ask your host to call the next place to come and pick you up.)
6. If your requested room type is available for the dates you want, the homestay will make a temporary reservation for you, and we will send you an email containing a payment link for the accommodation cost of your stay. Payment can be made with credit or debit cards issued by Visa or Mastercard.
7. To confirm your booking, please pay the invoice within 48 hours of it being sent to you. Reservations not paid for within 48 hours will be cancelled.
8. To ensure that you receive booking emails from us, please add contact <at> stayrajaampat.com to your email contacts or white list. If you do not receive any expected communications from us, please check your spam folder.
9. The Terms and Conditions and Policies relating to your use of the Stay Raja Ampat website and our booking system can be found here.
10. Read on to understand how our booking system works, and how it is different to others.
Please note that because of the limitations the booking system has to work under, it is not possible to make a single booking for a group in which individuals are arriving and departing on different dates: You must make separate bookings for people who are arriving and departing on different dates.
Book ahead
If you want to stay at the busiest homestays, or at the ones with on-site dive centers, then you will almost always need to book ahead.
Booking at least 2 months in advance is recommended for popular homestays.
Booking more than six months in advance is not recommended.
You can't make conflicting booking requests
Plan out where you want to stay, and pick a backup or two for each place in case your first choice is unavailable. Request your preferred choices and wait to see if available. If not, then place requests for your second choices. You can't request the same dates from multiple homestays, and (especially for homestays in areas with no phone signal) it could take a couple of days to receive a response to some requests.
If you can not (or do not want to) make a booking before you go

Go anyway! With over 100 member homestays, there is never a time when all Raja Ampat accommodation (or any island) is fully booked.
If you are unable to make a booking before you arrive, go to the Raja Ampat Homestay Information Center at Waisai. The Center is open 7 days a week, and will be able to find you accommodation and arrange your transport.
Currency display

Prices displayed when you first load the website are either set according to your geographical location, or will default to IDR.
Prices are charged in IDR, so only prices displayed in IDR are exact. Rates displayed in other currencies are approximate indications only and are based on internet-sourced mid-market rates. Your bank and/or card provider will set the actual exchange rate.
Click the currency selector (circled red in screenshot below) to change the currency that homestay rates are displayed in.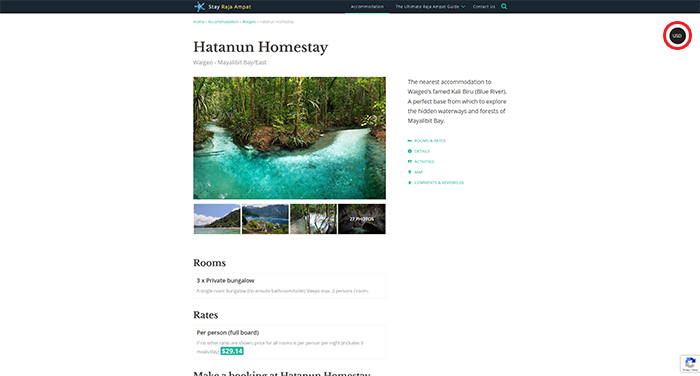 The Homestay Association guarantees that all guests who book via the Association's Stay Raja Ampat website will never be asked to pay more than the price members advertise on the website. The Association provides a support number to call if you ever find yourself in a situation where your host is telling you that "prices have gone up".
Search by price
The Price/person search filter that you will find on our accommodation page will return homestays for which the cheapest available per person price matches the selected range. In most cases, the cheapest per person price is for couples sharing the cheapest room that a homestay offers.
About booking on Stay Raja Ampat
Stay Raja Ampat is a community-owned, not-for-profit website that is operated by PT Bahari Perjampat Sejahtera, an Indonesian company which is wholly owned by the members of PERJAMPAT – The Association of Indigenous Community Entrepreneurship and Livelihood in Raja Ampat.
All homestays represented on Stay Raja Ampat are PERJAMPAT members, and when you make a booking on Stay Raja Ampat, you are not dealing with an agent, you are dealing directly with the homestay owner.
When you pay for a booking on Stay Raja Ampat, 100% of the money you pay benefits Raja Ampat's indigenous communities.
Raja Ampat Homestay owners always receive the price they want for their accommodation, and the commission that they pay on website sales provides the income that PERJAMPAT needs to continue to provide services to its members.
PERJAMPAT's income from website sales commissions pays for:
Provision, maintenance and updates of the Association's Stay Raja Ampat website.
The Waisai Homestay Information Center and staff salaries.
Homestay guest support, Association standards compliance, and website data collection teams' salaries.
Association member support, training and mentoring workshops.
All Association meeting, administrative and operating costs.
Representations to government on behalf of members and members' communities.
How the Raja Ampat accommodation booking system works
The Stay Raja Ampat booking system has been designed to overcome the challenges faced by the majority of homestay owners:
Lack of both the hardware and knowledge required to make use of digital tools and systems.
In many locations, lack of telecommunication infrastructure capable of providing internet access.
In some locations, complete lack of any kind of communications connectivity.
Lack of spoken or written English.
Lack of financial resources for independent digital marketing.
Exploitation by unscrupulous agents and middlemen who control many homestay listings on popular booking aggregators. (Sometimes without the owners' knowledge or permission.)
Here's how it works…
When you submit a Stay Raja Ampat booking request form, our system instantly translates your request to Bahasa Indonesia and sends it as an SMS text message to the homestay owner's phone. Homestay owners simply reply to the SMS request by sending 1 if the room is available, or by sending 2 if it is not.
Do not expect an instant response to your request.
Most homestays will respond to requests within a few minutes or hours, but in some cases, homestay phones could be out of signal range, the owner may have no credit available on the phone, or there may be local network problems. The system allows homestays 48 hours to respond to a booking request.
The instant that our system receives a homestay owners' response to your booking request, it will automatically notify you by email.
If the homestay does not respond within 48 hours of your request being sent, your request will be cancelled and our system will email you to let you know.
When a requested booking is available, our system will:
Send you an email letting you know that a temporary reservation has been made for you, and, a few seconds later,
Send you an email containing a "pay now" link for your reservation.
When a booking is unavailable, our system will:
Send you a notification email with suggestions for what to do next.
When a homestay does not respond to your booking request, our system will:
Send you a notification email with suggestions for what to do next.
When you pay your booking invoice, our system will:
Send you a booking confirmation email that contains

your booking confirmation and accommodation voucher,
contact details for your homestay,
Homestay Association guest support team contact details, and
a booking cancellation link.

Send your homestay an SMS message that contains

confirmation that you have paid for your booking
Your email address as entered on the booking form
If you do not pay your accommodation invoice within 48 hours of it being issued, our system will:
Send your homestay an SMS text message letting them know that you did not pay. (Your reservation will be cancelled.)
48 hours before your check in date, our system will:
Send your homestay an SMS text message reminder about your booking (and Waisai pickup if you requested one).
7 days after your check out date, our system will:
Send you an email inviting you to provide feedback to your host family and the Raja Ampat Homestay Association.
Cancellations:
Cancellations are a big deal for homestays. Many small homestays have to borrow the money they need to buy the fuel and food required for your stay, and it's very unlikely that a homestay will be able to fill a vacancy created by cancellations less than 30 days ahead of check in. Because of this, PERJAMPAT has a very strict cancellation policy. Please read it before booking.