Electricity: Electricity supply grids don't exist outside Sorong and Waisai. Accommodation places and villages with an electrical supply have their own generators.
Telephone: For a remote archipelago of scattered islands, Raja Ampat has fairly good mobile phone coverage.
Internet Access: Internet capable devices will work over the cell phone network (signal strength and connection plan permitting). Free WiFi is available at many cafes and hotels in Sorong and Waisai, but is rarely available out in the islands.
Electricity supply in Raja Ampat
As elsewhere in Indonesia, electricity is 220-240Volt 50Hertz, using type C (CEE 7/16&17 Euro 2 pin) and F (CEE 7/4 "Schuko") plugs and sockets.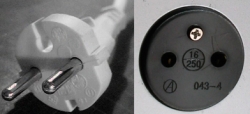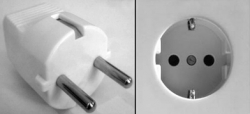 You'll need an adaptor if your devices don't have one of these plug styles, and a step-down transformer if your devices will only handle a 110-120V US style supply.
Electricity in Raja Ampat's island villages and at homestays is  supplied by generator and in many places is only available from sunset until around midnight to conserve fuel. Some homestays have backup solar lighting available.
Charging batteries and mobile devices: If you're staying in a village or at a homestay with a generator, you'll be able to charge batteries and equipment at night while the generator is running. If you're at accommodation without a suitable power source you'll need to arrange an evening visit to the nearest village or ask your host to take your equipment for charging and return the next morning.
Raja Ampat cell phone service
Telkomsel is currently the only network provider in Raja Ampat, so if you want to use the mobile network without roaming charges, you'll need a Telkomsel SIM for your phone.
If you are an international visitor, then you will also need to register your phone. Phone registration and SIM purchase can be done at any official Telkomsel store. IMPORTANT: If you are not in Sorong or Raja Ampat, be sure to mention that you want to be able to use your phone in Raja Ampat.
Signal strength is excellent in the areas around Sorong and Waisai. As a general rule, if you're near a village you should be able to receive some kind of signal, but there are wide areas with no coverage at all.
Cell phone towers in Raja Ampat occasionally go offline. Sometimes service will be restored in an hour or two, sometimes it can take weeks or even months.
If 24/7 guaranteed telephone and internet connectivity in all areas is a must for you, then your only option is to travel with a satellite phone.
Internet access in Raja Ampat
Apart from the Telkomsel network, both Sorong and Waisai have internet cafes and accommodation providers offering internet connections. Connection speeds are low by world standards.
Telkomsel's 4G cell phone service is available in the islands, but connections can be unreliable and speeds vary widely, depending on tower location, network load and weather conditions.
Don't expect standard 4G speeds though: Data transmission rates are quite low for a 4G network. Dropouts are also common. Sometimes internet connections will be impossible for a time, despite receiving full bars of signal.
There are a few homestays that provide free WiFi connections to Telkomsel's network. You can quickly find those by applying the "WiFi available" filter on the accommodation page.
Raja Ampat electricity, telephone and internet service availability at homestays can be found on each homestay's detail page.