THE AYAU AND ASIA ISLANDS
VITAL STATISTICS
Attractions

Pacific atoll perfection
Superlative snorkelling
Endless, empty  beaches
Complete cultural immersion
Remote area adventure
and… maybe… surf???

Ayau Besar
Atoll: 390 square kilometres with a 95 km fringing reef
Islands: 9,  largest of which (Abidon/Kanobe) is 0.84 square kilometres with a 5 km coastline
Villages: 4
Ayau Kecil
Atoll: 47 square kilometres with a 113 km fringing reef
Islands: 4,  largest of which (Dorekar/Aju) is ~6 square kilometres with a 14 km coastline
Villages: 3
Asia
Atoll: 21 square kilometres with a 26 km fringing reef
Islands: 3,  largest of which (Fani) is 6 square kilometres with a 10 km coastline
Villages: 0 (Indonesian naval post on Pulau Fani)
Number of Homestay Association homestays
No Association member homestays, see Richard's Ayau Homestay
Cost of getting there
 ~IDR 3,000,000 from Sorong (fastest way, see below)
Time needed to visit
 At least a week (Sorong-Sorong)
Other nearby islands with homestays
 None
Ayau location map
Quick links
Waisai Homestay Information Center
High resolution Raja Ampat map (PDF 3.59MB)
Step by step trip planning guide
2023 Ayau trip report by Umar Essop
2018 Ayau trip report by Lorenzo Pilati (contains extra info)
Raja Ampat Travellers' Forum (facebook group)
The Ayau and Asia Islands are remote and beautiful island groups, lying amid picture-perfect and rarely visited Pacific atolls.
The Ayau Islands are about 50 kilometres north of the northern Waigeo village of Kabare, and the far smaller, uninhabited Asia atoll is truly remote, being a further 70 kilometres north of Ayau.
If you're looking for a true "off the beaten track" tropical island adventure, then this is for you.
You'll need to have at least a week available, and being able to speak Bahasa Indonesia would be a definite advantage: English speakers are not common in the islands at all. Additionally, you'll need to carry in your snorkelling gear and anything else you consider essential, as only very basic commodities are available in island stores.
If you're a surfer on a mission to find the world's last unnamed breaks, Ayau and Asia should be high on your list of places to check. We're often asked if there is any surf in Raja Ampat. We have never seen or heard of any, but satellite images of Ayau and Asia suggest they'd be serious contenders. Both atolls are wide open to the Pacific swells and have miles of fringing reefs outlined in breaking waves.
Huge thanks to Umar Essop and Lorenzo Pilati for visiting Ayau and providing all the following information.
How to get to Ayau
(i) Fastest way: Weekly Susi Air flight from Sorong or Waisai to Kabare, pickup by Richard from Kabare.
(ii) Cheapest way: Fortnightly public boat from Sorong or Waisai to Ayau.
(iii) Time poor, but money rich way: Charter a boat from Sorong or Waisai.
See Umar's 2023 report for the details.
Where to stay at Ayau
Richard's Ayau Homestay sleeps two people. Cost is about IDR 500,000 per person per night.
Kabare transfers cost IDR 2,500,000 each way.
Ayau Homestay receives a good 4G signal.
Contact Richard on +6282199736924 or via his Putra Raja facebook page.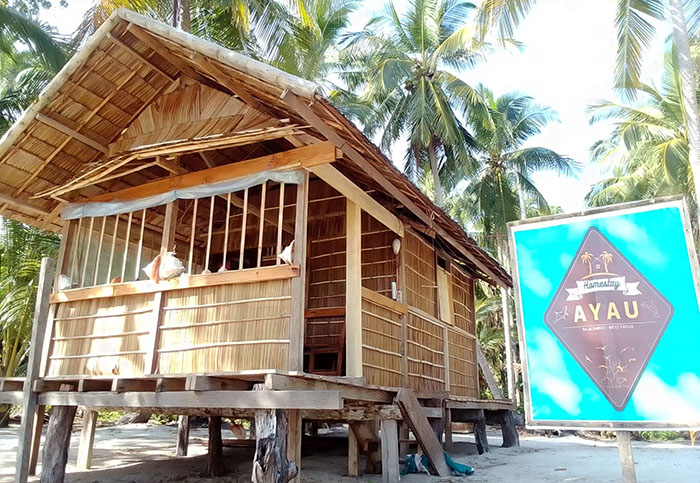 Ayau 2023
by Umar Essop
AYAU (ayu) is a group of islands located in the north east of Raja Ampat.
Technically speaking Ayau is the name of the largest island of the group but when a person wants to visit the region, they'll request to visit Ayau.
Ayau sits approximately 45 km NE offshore from the mainland of Waigeo. The islands are small sandy atolls protected by a barrier reef.
On the mainland there is a village that is very similar to many of the villages in central Raja Ampat. There is also strong 4G internet.
What is Ayau about?
The islands are sandy outcrops, densely populated with coconut palms that are reminiscent of south pacific islands and one would be forgiven for thinking they are on set of "Pirates of the Caribbean" or "Cast Away". Around many parts of the island, one can experience pristine beaches with soft white sand and calm blue waters under the shade of the coconut palms.
Every island in Ayau is completely surrounded by a thick line of coral known as a barrier reef. The reef does not begin from the shore but rather sits approximately 1km from the beach, this distance varies depending where on the island you stand. The disadvantage of this is that in order to access the coral reef you will need to take a boat. The advantage of this is that the shore is protected from waves and in turn creates stunning blue water beaches. The area between the shore and the reef consists of seagrass beds,seaweed farms,sand and isolated coral outcrops.
The underwater landscape of ayau is an aquatic metropolis with cities of coral and bustling fish communities. The landscape varies from gradual slopes to stark coral cliffs where one can peer into the blue abyss. There is everything from shallow water snorkeling to deep reefs.
The reef.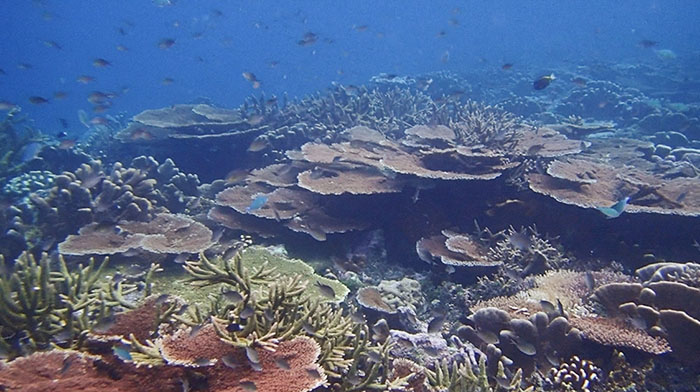 This next part is for coral aficionados and an in depth look into the life of the reef.
Ayau is an atoll which means the land is entirely protected by dense coral walls which lay the foundation for the entire ecosystem that calls the atoll home. Being an atoll, the islands sit in open ocean and are routinely exposed to the power of the deep seas. Offshore waves and strong currents shape the walls of coral and drive life into a very different form from that of mainland Raja Ampat.
Advancing to the barrier from land, one will begin to encounter isolated coral colonies separated from each other by vast areas of sand and water, the closer you get to the barrier the more frequent these corals become until the entire sea below you is dotted with a maze of hard corals.
This area creates a fantastic lagoon to snorkel and is protected from any strong currents. Across this coral lagoon is where the wall sits. At low tide the wall can be exposed and crossing can only be achieved at certain areas. Immediately ahead of the wall a new coral landscape is revealed with sprawling fields of acropora, porites and other reef building corals. This plateau starts very shallow and gradually deepens towards the dropoff.
Perhaps the greatest part of atoll diving is the reef drop off. In certain parts this is a steep decline which leads to a sandy plateau at the bottom but in other areas the drop off is a sheer underwater cliff which provides a dramatic new landscape of life. Some of these cliffs are lined with schools of fishing feeding in the current and others are dotted with rare and interesting species from breeding giant triggerfish to silver tip sharks patrolling the ledge.
The atolls landscape is very diverse. Among the underwater hills and cliffs, there are also valleys in which lie massive coral structures, bommies the size of houses and coral islands with ecosystems of their own.
The fish life is equally amazing with coral creating niche habitats for many different species to call home. The cliffs provide shelter for endless schools of pyramid butterflies and blue triggerfish while the slopes are clouded with shoals of anthias as far as the eye can see. Schools of barracuda are frequent and are usually accompanied with the odd giant trevally. Perhaps the greatest sighting of all is the migration of snapper around the atolls, if one should encounter this shoal, they will be spoiled with an unbelievable experience of thousands of fish forming endless lines as they travel around the reef.
How to get there?
Richard will advise the different options and if they have changed but at the time I went there were three.
The first option is to board the "Sabuk Nusantara 96". This passenger vessel operates a bi-montlhy trip from Sorong to Ayau stopping at Waisai and Kapadiri. The ship is quite large, consisting of 5 decks and able to ferry a couple hundred people.
The ship departs at irregular times but usually on a Saturday every second week. The journey takes approximately 24 hours. It is vital that you follow up with the Pelni port in Sorong or contact Richard to confirm when the ship is leaving: The schedule is variable and can change at a moment's notice.
The two main seating options are the economy sleeping area or a private cabin.
The economy seating areas are large rooms with bunk beds stacked next to each other. I would personally recommend the private cabin as it provides a luggage storage area,privacy and an ensuite bathroom.
The cabin has two beds, a window,an aircon,cupboards and electrical outlets. The aircon and beds are an absolute game changer and result in the trip being relatively luxurious. A very important point to mention is the cleanliness of the cabin is well below modern standards, the cabin is not cleaned often and there's no shortage of filth in the drawers and cupboards.
The beds consist of a pillow and a mattress,both of which have questionable hygiene standards, this however, is easily overcome with laying down a towel and having a covering for the pillow.
The bathroom is quite filthy, showering is not really practical and the toilet is only really good for urination, a bar of soap will become a necessary companion in this trip – bring one with.
The ship travels to Ayau in the order of Sorong-Waisai-Kapadiri-Ayau and returns the back the same way as soon as it reaches the furthest island in Ayau: Ayau-Kapadiri-Waisai-Sorong.
It will repeat this trip every two weeks. The ship stays at each port for approximately 30 min but this too is variable and is usually closer to an hour.
The cost for the cabin is around IDR 600,000 for the entire cabin (sleeps two). Contact Richard or Pelni for the economy price.
There is food for sale in the little kitchen, varied snacks, cup noodles and drinks.
One does not need to stay in Ayau for two weeks, they can return after one week with the second method.
The second option is to take a short flight and a boat. Susi Air operates the route Sorong-Waisai-Kabare and Kabare-Waisai-Sorong on Fridays (This too can change, contact Richard or Susi Air).
The price for Kabare-Waisai is approx IDR 300,000 and you'll purchase the ticket at Kabare or Waisai. The baggage allowance is 15kg, every additional kg is IDR 20,000. The flight is approximately 30 min.
From Kabare you will charter a boat with Richard to Ayau and vice versa when returning.
The boat trip is approximately 2 hours and costs around IDR 2,500,000.
The last option is to charter a boat from Sorong to Ayau. This is ridiculously expensive and not really practical.
The best option for me was to take the ship to Ayau and return via plane.
Ayau Homestay
Richard has started a homestay on the main island of Ayau. It follows the same format as most other homestays in Raja Ampat, virtually the same.
The house can sleep two people and costs approximately IDR 500,000 per night.
There is great 4G signal from the homestay.
Richard will provide anything you need as well as offers different activities including snorkeling.
If there is anything specific you can simply ask him (download google translate on your phone)
Contact Richard on +6282199736924. He is usually available on whatsapp.
He is also on facebook as "putra raja".
Raja Ampat: The Ayau and Asia Islands (2018)
by Lorenzo Pilati
Ayau is the common name for a bunch of islands north of Waigeo. If you go to Google maps and switch to Satellite view, you will realise that they are in fact two atolls. Two Pacific Ocean, Tahiti-grade beautiful atolls. Locals refer to them as Ayau Kecil ("Small Ayau") and Ayau Besar ("Big Ayau"), the former being the westernmost one, the latter the bigger one. For the sake of simplicity, I'll refer to them as east Ayau and west Ayau: this is just my own way of calling them, it's not on any map or reference source. Most of the times, locals name just the islets that dot the outer reef ring (the 'motu', in Tahitian).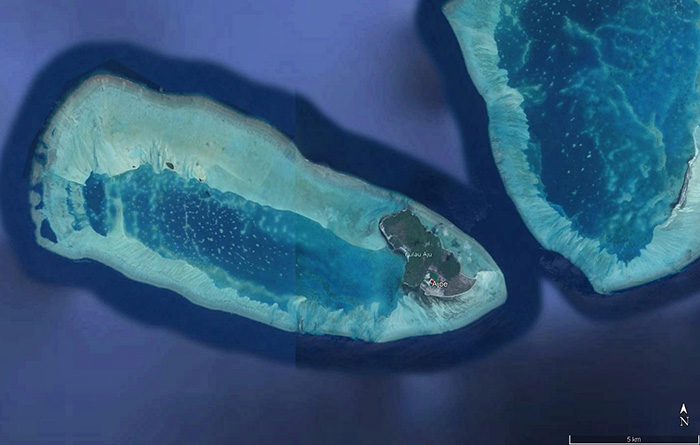 West Ayau has just one inhabited islet: it's commonly called Dorekar, after the name of the main village; there are two more villages on the same speck of land: Yanfankan, about 3 km along a path to the west of Dorekar, and Yenkawir, about a km past Yanfankan, at the westernmost end of the island.
When people go to the Ayau Islands, they normally specify the village they are going to, rather than saying "I'm going to Ayau". Dorekar is the largest settlement and is home to government buildings and even a branch of the Bank of Papua.
The western Ayau atoll comprises also three tiny islets called Urbabo, Urbabo Kecil and Urmasasi. Two of them are home to fishermen's temporary shelters, while the smallest is a designated no-catch area based on local sasi tradition.
Electric power is available through the new and extensive grid, but only when the local government has enough money to buy fuel. During our stay, power was only available via private generators and privately-sourced fuel.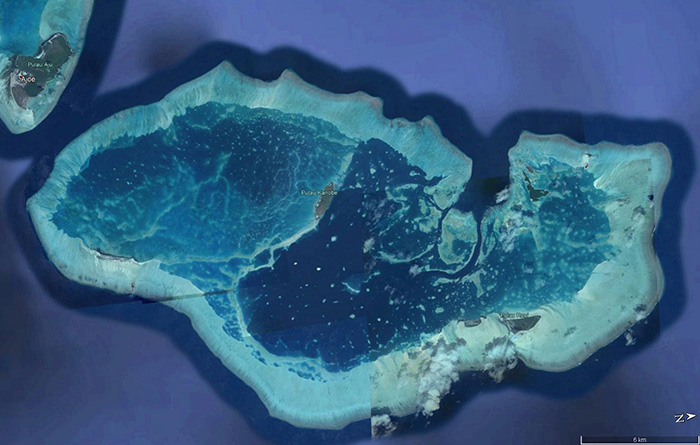 East Ayau is way bigger; there are four inhabited islets: Abidon (or Kanobe on Google maps), Reni and adjacent Rutun, and Mios Bekuan ("Long island" in Bahasa Biak, the language spoken by the islanders).
At low tide, you can walk among the four islets: a long, snake-like sand bar connects the villages; the time required for the complete tour is probably significantly longer than tides allow, which means only the Reni-Rutun crossing is feasible.
Abidon is the only one without fresh water wells: Because the huge desalination plant is broken, the only source of water is rain. Due to one of the more and more common paradoxes of the modern world, there is LTE internet signal which is missing altogether in Yenkawir and only partially available in Dorekar and Yenfankan (more details about phone and internet connection later).
The tiny and highly scenic Mios Ros lies east of Mios Bekuan. At present, it hosts only a sea cucumber farm.
The northern part of East Ayau is made up of a group of islets collectively called Mios Mandun and a bigger island called Kanover (also called Kanobe on Google maps: Confusing!). They only provide shelter to birds and bats.
Getting there
The nearest landfall to Ayau is Kabare, north Waigeo. Private boats depart whenever they are chartered. You can charter a boat also from Waisai in southern Waigeo or from Sorong.
They tend to be expensive if you don't share with other visitors or locals. The cheapest way to get here is to board the Perintis boat called Mitra Papua.
A quick introduction to the "Perintis" fleet might be handy: The Indonesian government runs two fleets of vessels whose routes criss-cross the archipelago, Pelni and Perintis. Perintis means "Pioneer", a name that does not immediately summon memories of luxurious accommodation and food. Boats belonging to this fleet are in fact cargo boats, sometimes adapted to carry a limited number of passengers, usually out on the main deck. They are notorious for their unreliable schedule and lack of hygienic certifications.
The Mitra Papua however has a fixed weekly schedule and is kept relatively clean by both 1 of the 3 crew and the passengers: You will see them happily throwing overboard all kind of garbage, mostly plastic and other modern pollutants.
From January 2018, the boat has a yearly contract that includes the following schedule:
Saturday at midnight (between Saturday and Sunday): departs Sorong
Sunday 6am: arrives in Waisai, then: 3 hours in port
Sunday 9am: leaves to Kabare, arrives: 7pm, stays in Kabare: 10 hours (overnight)
Monday 3am: leaves to Ayau, arrives: Monday 6am, stays at anchor 2 hours
Monday 8am: leaves to Pulau Fani, arrives: 5pm, stays 2 hours
Monday 7pm: departs to Kabare, arrives: 4am Tuesday, stays in Kabare until 10pm
Tuesday 10pm: leaves to Sorong, arrives: 9am Wednesday
Note that the trip to Pulau Fani is only done occasionally, when requested by the navy base, and then only if weather conditions allow. The naval base on Pulau Fani is the only settlement in the Asia Islands. Fani is one of three islands in the Kepulauan Asia atoll. If the boat does not go to Fani, then the departure on Monday morning is delayed until about 9am. After reaching Ayau around 12noon and staying at anchor about 2 hours, the boat goes back to Kabare and Sorong as per above schedule and times.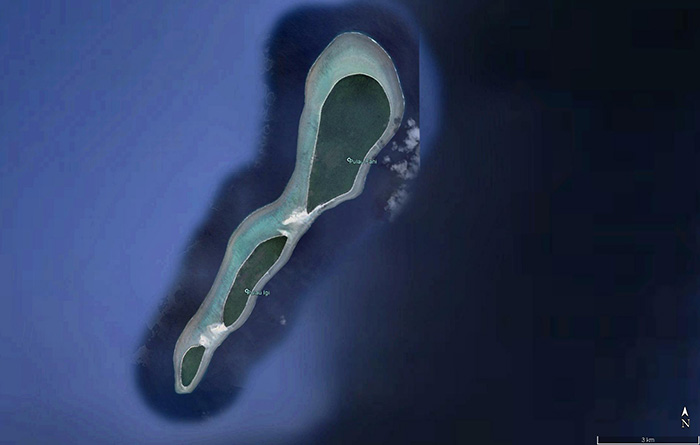 There are no passenger cabins. You can ask around for a crew member who is willing to rent out his bed (the crew is male only, sorry :). The trip from Sorong to Kabare is about IDR 300,000 and about 500,000 to Ayau. Alternatively, you can do as everybody else does and sleep under the thick tarpaulin on the main deck at the front of the boat, or on the smaller space on the upper deck at the back of the boat. (A tarpaulin provides shelter there as well, but the noise from the main engines and the generator is hard to ignore).
No food is served onboard but you can buy noodle cups and "cook" them with the hot water provided free of charge. You can also buy cookies onboard, or buy your food before boarding.
True to its nature as a cargo boat, the Mitra Papua carries all kind of wares: From heavy sago "cones" to hundreds of sacks of rice, to chickens, scooters and pieces of furniture.
Less legal items such as black coral, shells and lots of parrots and parakeets abound as well.
Staying on Ayau
There are a total of 4 wooden cabins in a few of the islands (at the beach behind Dorekar, and at the beach on Long Island). They are ready and the local government might decide to open them up to visitors some day.
For the moment, the only alternative is to find a local who is willing to host you.
I met Richard, a guy from Yenkawir, on the Mitra Papua. His English is basic so we got along in Bahasa Indonesia. I paid IDR 300,000 per night with 3 meals included. I stayed in his house in Yenkawir for about 10 days; two nights we stayed in Abidon, near a Conservation International (CI) office.
Accommodation is in a local house, which I loved. Just to make sure you know what to expect, in Yenkawir the rats made a lot of noise every single night (every single moment, it felt like :) ) I only saw one once in the kitchen, but I heard them loud and clear – bring your ear plugs.
In Abidon, we slept with the generator on the whole night because the islet is home to small, non poisonous snakes with the questionable habit of entering the houses and rolling up sleeping people's bodies. On the bright side, not one rat was to be heard – I didn't see any of the snakes either. Bring your…???
Food
Staples are rice and fish. Vegetables such as papaya flowers and leaves were servedevery day. Fruit was absent for the first 10 days, then Richard found some bananas and2 or 3 papayas, all of them very tasty and sweet.
Coconuts abound but tree climbers are scarce, so we often got coconuts collected from the ground rather than the real thing. Pulau Reni has tiny coconuts that are the sweetest we have ever tasted (previous number one spot was occupied by the chestnut-shaped Thai coconuts).
All villages have one or more shops where you can buy cookies, noodles and other common stuff such as band aids and super glue.
Ayau Islands phone signal & internet access
On west Ayau, the village of Dorekar has wifi via a solar-powered system. It was fixed while I was there, so I could use it during the last few days of my stay. It's 3G with good speed: I downloaded and sent emails and checked for my flights but couldn't buy any tickets. No phone signal is available because the Telkomsel tower has been broken for two years.
As for the other two villages on east Ayau, Yenfankan (the nearer to Dorekar) should get some wifi signal: I haven't tried personally. Yenkawir doesn't get any signal: In case of urgent need, jump on a boat and in less then 5 minutes you are in Dorekar. There is no phone signal in either village.
On east Ayau, the main islands of Reni and Rutun get both phone and internet signal. It's LTE at very good speed. Again, all I did was checking emails and a few other travel related websites: the speed was ok for those tasks.
In Abidon, if you go out to the pier you can catch the signal from Reni: same as above.
In Mios Bekuan, you can get the Internet signal only at the very northern tip (closest to Rutun) by climbing on a tree :). The phone signal seems to be better but I haven't tried it personally.
Activities
Both atolls have plenty of beautiful beaches and sand banks. Snorkeling is good particularly in the outer sea: Richard has worked as guide for NGO so he knew what foreigners expect. Only a small area has dynamite damage, the rest is pristine hard coral for as long as you can snorkel.
Fishes come in huge schools, small bali tip sharks pop up regularly but ins very small number. In fact, one specific area is off limits to tourists because the local community actively fish for sharks.
Turtles are very few and incredibly scared not just by the boat engine but even by the sight of a snorkeler: every single village has a turtle pen, a small palisade where live turtles are kept before being eaten; all the pens were empty at the time of our visit, but we did see a dead turtle being carried along a pier, and kids killed two tiny juvenile sharks during a snorkeling trip (we were taking aerial pics and only realised what the prey of the screaming pack was when it was too late).
Mantas are seen at specific times of the month according to tides. We had 3 encounters with one manta during one half day tour.
The islands are small enough that you can walk around each of them within a few hours. We spent most of the times at the beach or in the water so we missed out on the trekking.
Sunday is prayer day which means most people just relax and socialise. The majority of the inhabitants are Protestant Christian.
Daytrip
We organised a speed boat to visit Pulau Mot (aka Pulau But). It cost about 100 Euro in fuel. The islet is isolated and remote by any standard. However, the crumbling state in which the CI hut rots away means that the 20-year period during which the turtle nesting grounds were guarded is over. The obvious result has been a free for all eggs & turtles bonanza.
Snorkeling is good, the beach is awesome and all to yourself.
Guide for Ayau & Asia
If you'd like to try contacting Lorenzo's guide Richard, his phone number is +6282199736924
Bear in mind that Richard only has very basic English, and lives in an area where telecommunications are difficult. Richard's number was correct in April 2018, but phones often get dropped in the ocean and numbers changed.