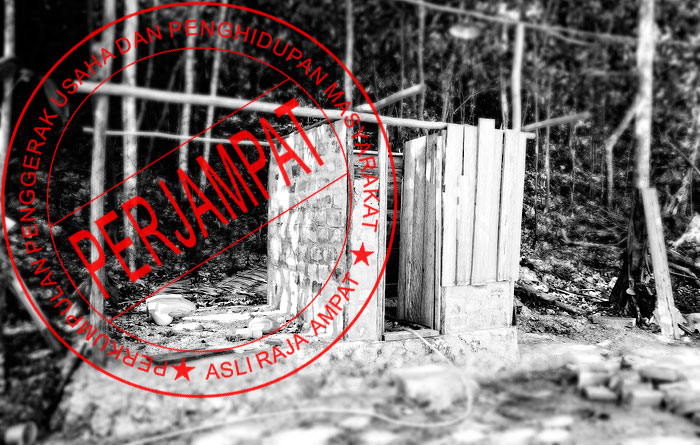 The link that brought you here is to a homestay that does not meet the standards that PERJAMPAT (The Association of Indigenous Community Entrepreneurship and Livelihood in Raja Ampat) requires of members.
Removal from Stay Raja Ampat is a last resort, taken only after PERJAMPAT mentoring and encouragement have not resulted in the homestay in question meeting the standards required for Association membership.
Member homestays will be immediately restored to the site as soon as the required standards are met.
PERJAMPAT membership standards have been developed by the Association to (among other things) ensure guest comfort and safety.
PERJAMPAT membership also ensures that guests with complaints have a way to report their grievances and seek redress if necessary.
I have a booking at this homestay! What happens now?
Please contact us by replying to your booking confirmation email.
But I've stayed at this homestay and it was great! What's wrong with it?
Guest experience is only one of the categories assessed when measuring Standards compliance. Homestays can be perfectly adequate from the guest perspective and yet still fail to meet overall standards.
What are the standards?
The HSA Standards assessment examines five separate categories of homestay operations.
Assessment includes such things as social impact and obligations, gender equality, environmental impact and environmental sustainability. The five categories are assessed via 29 criteria having a total of 75 specific indicators.
Some indicators of most direct concern to guests include:
Specific minimum standards for accommodation facilities
Specific minimum standards for bathroom/toilet facilities
Environmental impact
Homestay cleanliness and waste management
Homestay food and food preparation hygiene
Minimum certified training of guides for hometays with diving operations
Adherence to the Raja Ampat Diving Code of Practice
So does Stay Raja Ampat only list PERJAMPAT member homestays?
Yes – for areas where PERJAMPAT is currently providing support and member services.
As of May 2022, that area extends from Batanta in the south to the north coast of Waigeo and westward to include Gam, Mansuar, The Pam (Fam) Islands, Piaynemo (Penemu), Manyaifun, Kawe and all the locations between those islands.
We will continue to list as many homestays that lie outside the HSA area of operation as we can collect (or are provided) sufficient information for.
Why?
PERJAMPAT performs an essential role in creating the economic and social conditions necessary for local communities to retain ownership of their traditional lands and culture in the face of ever increasing development pressure.
PERJAMPAT membership is open to all locally owned homestays and a unified community approach and an agreed set of standards for all will best ensure the success of the conservation effort in Raja Ampat.
PERJAMPAT funds the provision of its services to members and guests (including the Stay Raja Ampat website). It's only fair that businesses benefiting from those services are members of the organisation providing it.
But I've heard that the Association is some kind of exclusive club or price fixing cartel?
Sigh… It most certainly is not!
We've had information about PERJAMPAT and its role on the website for a long time now.
But since you asked, here's an extract from a comprehensive 2016 report about PERJAMPAT. We hope it will put such notions to rest!
The Raja Ampat Local Homestay Association currently represents just over sixty family-owned businesses. These are not private individual businesses, but family entities, similar to a traditional joint stock company, that support and employ an extended network of relations.
The Association is now the largest community-owned business grouping in the Indonesian provinces of Papua and West Papua. First concentrated around the islands of Mansuar and Gam in the Dampier Strait, the Association's membership is spreading to include communities from other parts of Raja Ampat such as the Fam islands, western Waigeo and the island of Batanta.
The Association's members understand that their businesses depend on the integrity of their environment. They believe that they and others in their communities are best positioned to protect that environment, and that their businesses give them the means to do so:
"It's obvious isn't it? As more homestays start up in places under greatest threat from bomb fishing – such as Batanta and western Waigeo – less of it will happen. There will be more of us around to keep watch as we go about our business, and we will not need to be paid to patrol. Who would dare bomb the reef around Mansuar now?"
The Association mobilises technical assistance and funding for business skills training and mentoring for its members. The Association also provides certain business services to its members such as online promotion and bookings, and it manages government relations on issues such as the management of MPA entrance fees.
The Association is setting standards on diving, transport and hospitality to govern the conduct of its members' businesses. It is currently working to adapt and apply the Global Sustainable Tourism Criteria (GSTC) to the homestay sector.
The Association is also a social movement motivated by the desire to prevent family land being sold to resorts and to stand on their own feet as economic actors. "Homestays are our way to defend our land… we do not want to be bystanders or someone else's workers". The pain that people feel when they have lost land remains the single most important factor in motivating people to set up the Homestay Association.
The Association is a community organization that, for the first time, gives people from multiple communities their own, shared space to discuss their lives and businesses; and also to find solutions to the problems that most concern them, such as waste management, illegal fishing, illegal logging, and the loss of culture and identity.
As such, the Association fills an institutional vacuum. With the possible exception of the church there is, at present, no other structure at community level that regularly convenes people from different villages in order to talk about matters that are too big for each village to address on its own.
The Association is inspiring youth. Over half its management team are in their twenties and thirties and represent a new generation of community leaders that could serve Raja Ampat for the next forty years. The opportunity to work for the family business means that youth now want to come home after completing their studies. Much of the money that their families' homestays generate now pays for their younger sisters and brothers to also go to college.
The words of one young homestay owner reflects how others of his generation now think: "I hope other people in the community can build a business like this one. I hope that outsiders do not take over this small place. The future I wish for is that my community will always stay here and make its living from this place."
The Association is empowering women. The Association understands that it will fail if men and women cannot work together. The Association's most energetic managers are now women. They are the glue that binds the Association's membership, and are organising other women in their villages to set up kiosks and a market for local organic produce to keep homestays supplied. Their example has transformed the outlook of women in the community. One said, "All my life I have looked at this kitchen, I never knew life could be more than this".
The homestay sector is therefore serving, not only to protect the marine environment, but also to regenerate community. Where this serves to build a supporting system of extended family and other social relations then it reinforces the likelihood that conservation will succeed.
---
"Redefining conservation: how communities in Raja Ampat are shaping their world, and what their experience teaches us about empowerment."
Dominic Elson, Maria Latumahina & Adrian Wells
Seventy Three Pte Ltd
Jakarta, 28th May 2016
A vision for life in Raja Ampat
The Association of Indigenous Community Entrepreneurship and Livelihood in Raja Ampat has articulated the  hopes and aims of local communities in their Vision Statement. You can read it here.
2017 UNDP Equator Prize award
The Association's success in advancing local nature-based solutions for sustainable development was recognised by the United Nations Development Programme 2017 award of an Equator Prize.
See the highlights of the Equator Prize NYC events in this video, and read more about 2017's other winning community groups here.