Divemarine Homestay
Pambemuk - Pam (Fam) Islands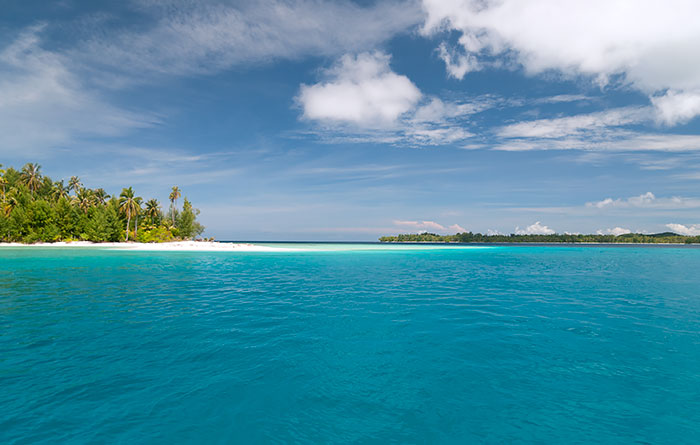 Rooms
4 x Private bungalow
A single room bungalow (no ensuite bathroom/toilet) Sleeps max. 2 persons / room.
Rates
Use the booking form to calculate exact pricing for your booking
Twin share from USD 27.77 per person / night including 3 meals daily
Single occupancy from USD 27.77 per person / night including 3 meals daily
Discount for children under 12
Features
Western style toilet
Reef dropoff
English speaking
Has email contact
Hiking available
Good phone signal
Child discount
Snorkeling equipment
On site dive centre
IDR 400,000 to 500,000
In village
Diving available
Details
July 8 2021: Divemarine Homestay is being renovated and is currently not accepting bookings.
Divemarine Homestay offers four private bungalows on the eastern shore of Pambemuk Island.
Each bungalow has mattresses for two, available in either in twin or double form. Bedding includes sheets, pillows, bolsters and mosquito nets. The bungalows all have a covered verandah with a bench or individual chairs and a small table and have wide ocean views eastward to Batanta, Mansuar, Kri and the sunrise.
Meals at Divemarine Homestay are served in a dining shelter that has a large table and bench seating. Drinking water, tea and coffee are always freely available to guests there.
Guests share bathroom facilities, which are two adjoining pebble-floored rooms, each having a western style toilet and dip mandi (bucket) bathing.
Electricity is supplied by generator and is available between sunset and midnight only. Divemarine Homestay receives a strong mobile phone signal, but we were unable to get a data connection when we last visited in June 2016.
The homestay lies on the beach at the eastern end of Pam village, where there are small shops that sell basic supplies.
Divemarine Homestay owner Ampi speaks good English.
Please note that if you are looking for a remote and isolated beach getaway, then Divemarine Homestay may not be the place for you. The homestay is located on a beach in the largest village in the Pam Islands. This means that the homestay's immediate environment is not as pristine as that enjoyed by homestays on uninhabited Pam islands. What Pam Homestay does offer is:
The only dive center in the Pam Islands
A welcoming, responsive, and professional, English-speaking host who consistently receives great reviews from guests.
A location central to all the attractions of the Pam Islands, only a short boat ride away from fabulous beaches like the one shown in the main image above.
Finally, as everywhere in Raja Ampat, any inorganic trash you leave in Pam will remain there to contribute to pollution in the islands, so it's always best to take any that you make away with you when you leave.
Transport / Getting there
Transport from Waisai to Pam Island costs IDR 2,100,000 each way. The journey is made in a large longboat that can carry up to five passengers. Cost is shared by passengers.
Transfers by speedboat which can carry up to 8 are also available. Cost is IDR 2,500,000. You will need to contact your hosts if you want to specify a pickup method.
Read more about Raja Ampat boat transport prices here.
Public Boat
If you are looking to save money on transfers and have plenty of time available, there is a public boat that runs between Sorong, Arefi on Batanta, and Pam village on Pambemuk. The public boat is a lot cheaper than any other means. It costs about IDR 120,000 one way between Sorong and Pam. It's also a long, slow journey. The boat leaves Sorong once a week at 1600 on Fridays, and arrives in Arefi at Batanta at 2200. John Urbon in Sorong can help you find the public boat.
You would need to let your homestay know you were arriving on the ferry so they could arrange a pickup or somewhere for you to spend the night in Pam. (Small boat travel at night is potentially dangerous.)
The return trip usually leaves Pam around 0830 on Saturday morning, arriving in Arefi at about 1230 and Sorong at 1730.
Activities
Diving
Divemarine Homestay has an on-site dive center with equipment for up to 5 divers at a time. The only dive center in the Pam Islands, Pam Guesthouse is the closest dive center to famous sites like Melissa's Garden, Barracuda, Galaxy, Anita's Garden and the many others around Piaynemo and Pam.
Prices quoted below are for dives at local Pam & Piaynemo sites. Diving further afield (Batanta, Dampier Strait etc) can be arranged but will cost more to cover extra time and fuel costs.
DIVEMARINE HOMESTAY DIVING
PRICE
Per dive, all inclusive of boat and equipment costs
550,000
10 dives + 1 free (11 dives total)
5,250,000
4 day, 3 night accommodation & dive package for 2
Includes accommodation & meals, 6 dives, Waisai transfers & Piaynemo entrance fee.
Dives at: Melissa's Garden, Fam Wall, Fam Slope, Rufas Piaynemo, Sardines Reef, Andau
Does NOT include Sorong-Waisai ferry costs and Environmental Services Levy.
16,882,360
Beaches and snorkelling
The Pam islands are a group of low sand cays that have the best beaches we've seen in Raja Ampat. Beaches where the sand slopes away into the ocean so there's no risk of walking on coral when you enter the water. Divemarine Homestay is less than a kilometre from some fabulous uninhabited jewels just perfect for beach picnics and lazing the day away in those fabulous azure waters.  There's good snorkelling around Pam too of course, and there's nowhere closer to Piaynemo and that island's magic reefs of Melissa's Garden. Divemarine has 4 sets of snorkelling equipment available, but bringing your own is always a good idea.
Divemarine Homestay can organise snorkelling trips to all the secret Pam attractions as well as Piaynemo, Melissa's Garden and anywhere else you might like to go.
In addition to snorkelling, long walks can be made on the biggest Pam island right next door, which also has attractions like the crocodile-inhabited Yellow Lake.
Snorkelling Tour and Accommodation packages
Divemarine Homestay offers 4 day, 3 night snorkeling tour and accommodation packages for 2 and 4 people. The packages include Waisai transfers and 3 meals a day. Each couple is accommodated in a separate bungalow.  Divemarine Homestay has 4 sets of snorkelling equipment available, but bringing your own is always a good idea.

Total price for 2 guests: IDR 9,176,480
Total price for 4 guests: IDR 16,117,650
Not included: Raja Ampat Environmental Services Fee.
| SNORKELING TOUR ITINERARY | ACTIVITY |
| --- | --- |
| Day 1 | Pam Wall, Melissa's Garden, Piaynemo |
| Day 2 | Sardines Reef, Manta Point, Eagle Ray Point |
| Day 3 | Napoleon Wall, Sandbank, Manta Lake |
| Day 4 | Back to Waisai |
Village visits
The guesthouse lies on the edge of Pam village, so immersion in day to day village life is guaranteed. There are a lot of children in Pam, who (when they've got over being shy) will enjoy your company and the chance to practice their English – or any other language you might like to teach them!
The neighbouring "big island" is home to Sau Kabu village and the small shops and local guides there will benefit greatly from your patronage if you visit to see Yellow Lake or enjoy their fabulous beaches.
Pam/Fam Islands
See our Pam Islands page for an overview of the Pam/Fam Islands and their attractions.
Divemarine Homestay Location Map