Sea Whip Homestay
Manyaifun - West Waigeo/Manyaifun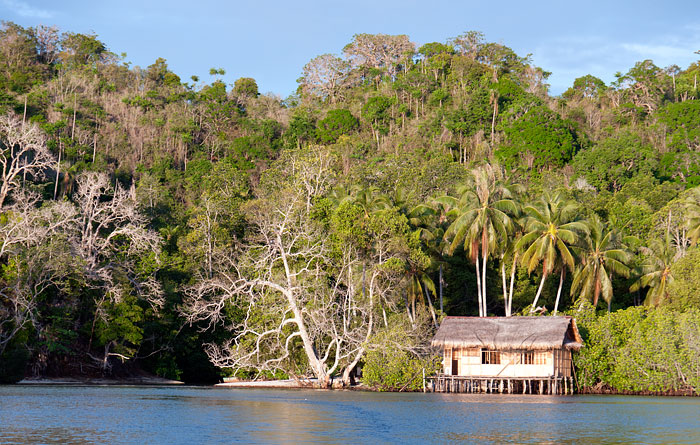 Rooms
1 x Over water - Private bungalow
A single room bungalow (no ensuite bathroom/toilet) Sleeps max. 2 persons / room.
3 x Over water - Room in a bungalow
A room in a bungalow with 2 or more rooms and shared common areas. Sleeps max. 2 persons / room.
Rates
Use the booking form to calculate exact pricing for your booking
Twin share from USD 26.92 per person / night including 3 meals daily
Single occupancy from USD 26.92 per person / night including 3 meals daily
Features
Has email contact
Reef dropoff
Hiking available
Good house reef
Has family bungalows
Wayag trips
Near village
IDR 400,000 to 500,000
Details
September 2022: Sea Whip Homestay has not yet reopened after the pandemic. Please contact us if you want to be notified when/if Sea Whip reopens.
Sea Whip Homestay lies in front of a bird-filled mangrove forest at the northwestern tip of Pulau Manyaifun in remote West Waigeo.
Sea Whip has a large three-room family bungalow and one private bungalow. Both are over water and have excellent bay views, perfect for watching sunsets.
All bedrooms are equipped with mattresses on the floor, mosquito nets, pillows, bolsters and mattress covers.
Meals are served in Sea Whip's dining shelter on the boardwalk to the over water bungalow and a bathroom building on land provides a dip mandi bathroom and squat toilet in separate rooms.
Electricity is available from sunset to around midnight and is supplied by generator.
Manyaifun usually has a phone signal good enough for calls and SMS, but not for a data connection.
Sea Whip Homestay lies a short walk from Manyaifun village where basic supplies can be purchased. Manyaifun is a remote island though, so consider bringing your favourite snacks and anything else that you can't do without. It's also important to take any inorganic trash (especially plastic and batteries) that you create away with you when you leave – there's no safe waste disposal on Manyaifun. (See our article about rubbish in Raja Ampat for more info.)
Only a little English is spoken at Sea Whip, so bringing a phrase book would also be a good idea if you have no Bahasa Indonesia.
Transport / Getting there
Transport between Sea Whip Homestay and Waisai is by longboat and costs IDR 1,500,000 each way for up to 3 people, or IDR 2,000,000 for 3 to 6 passengers. Trip cost is shared by passengers and the boat can carry up to six passengers.
It's a long trip (about 2.5 hours), but you'll see a lot of Raja Ampat on the way. The route passes through Kabui Bay and Kabui Passage, then past a number of uninhabited cays with white sand beaches and turquoise waters between Kabui and Manyaifun.
Boat transfers are also available to other islands if you are planning to stay at other homestays as well. The transfers are also by longboat as above, and the links are to descriptions of the destinations. Trip prices (shared among passengers) are below:
| FROM/TO | 1 to 3 pax | 4 to 6 pax |
| --- | --- | --- |
| Waisai | 1,500,000 | 2,000,000 |
| Piaynemo (drop off/pickup) | 1,000,000 | 1,500,000 |
| Piaynemo (day tour incl. entrance fee) | 1,100,000 | 1,300,000 |
| Pam Island | 1,300,000 | 1,500,000 |
| Arborek / Gam | 1,000,000 | 1,300,000 |
| Kri / Friwen | 1,300,000 | 1,500,000 |
| Selpele Homestays | 800,000 | 1,000,000 |
| Batanta | 1,700,000 | 2,000,000 |
| Wayag Day Trip (includes entrance fee) | 6,000,000 | 6,000,000 |
Activities
Sea Whip Homestay is a great base for snorkelling, bird watching and hiking. The heights of Manyaifun offer great panoramic views, as do those of the much larger neighbouring island of Batang Pele.
Manyaifun village is a short walk away and provides the chance to experience local village life on a remote island. Ask to see the original bamboo water supply network that still provides water to some village houses, and also to see the fresh water eels that inhabit a small pond in the village stream.
Snorkeling at Sea Whip Homestay
Sea Whip can organise snorkelling trips to any location you'd like to visit. A longboat is used and trip prices are shared by participants. The longboat can carry up to six passengers. A few popular trips are listed below.
Manta Island snorkeling trip (swim and snorkel with Mantas!) – IDR 500,000
Wayag Day trip (snorkeling/climb for panoramic views) – IDR 6,000,000
Waigeo Barat
See our West Waigeo page for an overview of West Waigeo, its islands, and their attractions.
Sea Whip Homestay Location Map