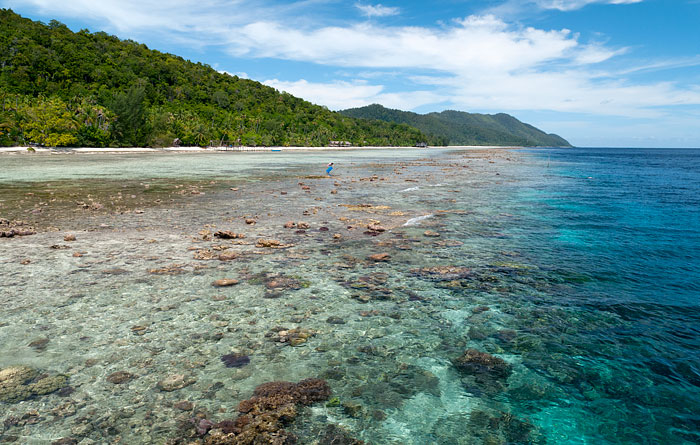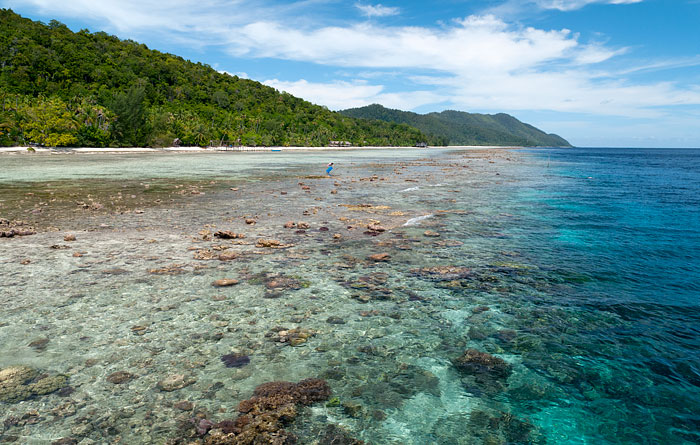 Koranu Fyak Bungalows
Having an on-site dive center and a rich house reef, Koranu Fyak is a popular homestay that offers diving at all the best Dampier Strait sites.
Rooms
7 x On land - Private bungalow (beachfront)
Sleeps max. 2 persons / room
Rates
Single - Private bungalow (beachfront)
IDR 400,000 / person / night
Couple - Private bungalow (beachfront)
IDR 700,000 / couple / night
Details
Koranu Fyak Bungalows has seven single room private bungalows with raised beds with mattress, sheets, mosquito net and bathtowel provided.
Meals are served in an over-water dining shelter that has a large table and bench seating and fabulous views across the strait to Gam and Waigeo. Water, coffee and tea is always available on a second table there.
A number of bench seats with ocean views are provided, and some hammocks are available for relaxing as well. If you fancy a challenge, an outdoor table tennis table is available for you to pit your skills against the wind handicap.
A bathroom shelter houses two bathrooms with showers and two western style toilets. If they're all in use and you don't want to wait, an adjacent older bathroom shelter has a dip mandi bathroom and squat toilet.
There's good phone reception at Koranu Fyak and a 7 kilowatt generator provides electricity for lighting, charging all your electronic devices and powering a refrigerator for cold drinks.
If you need basic supplies, the nearest village to Koranu Fyak is Yenbuba on Mansuar, about a 15 minute boat trip away at high tide. At low tide it's possible to walk there.
English is spoken at Koranu Fyak.
Koranu Fyak's Wobbegong Dive Adventures is a fully equipped and SSI certified dive center and offers guided dives at a range of the best Dampier Strait dive sites. Dive courses from Open Water to Divers Stress and Rescue are available from SSI certified instructor Ruben Sauyai, who can teach in English or Bahasa Indonesia. Online completion of the course theory is available so all you need to do is the practical component when you arrive. Well maintained (new in Jan 2017) equipment is available for up to 8 divers at a time and includes:
masks, snorkels & weight belts
regulators and tanks
BCDs (various sizes)
wetsuits (long, sizes S to XL)
fins (range of sizes)
See the Wobbegong Dive Adventures page for prices and more information about diving with Koranu Fyak.
Learn to dive in Raja Ampat
Wobbegong Dive Adventures offers introductory discover scuba diving and refresher courses and PADI/SSI certification courses from Open Water to Divers Stress and Rescue are also available.
Pay by credit card.
As of June 2014, Koranu Fyak Bungalows offers guests the ability to pay by Visa and Mastercard. Credit card payments attract a surcharge to cover bank fees. Note: There's no guarantee that your particular bank's credit card will be accepted by the processing bank. The facility is provided by Indonesia's Mandiri Bank, so if you want to rely on your card for payment it would be wise to check that it will work in a Mandiri ATM before arriving in Sorong. See our Money, Banks and ATMs page for more information about access to cash in the islands.
Koranu Fyak Bookings
You'll need to contact Koranu Fyak directly to make a booking, as they have asked to be removed from our website booking system.
Transport / Getting there
Waisai – Koranu Fyak Bungalows transfers (one way) cost IDR 700,000 for up to 4 people, IDR 200,000 per person if more than 4 passengers. Transfers are by speedboat which can carry up to eight passengers maximum.
Activities
Shaded by pandanus and tropical foliage and having a view across the water toward Gam and Waigeo, Koranu Fyak has a rich house reef and a long beach perfect for sunset walks. The bungalows are central to the marvels of Koh, Mansuar, Gam and Kabui Bay. At low tide, Kri is joined to the islands of Ransiwor and Mansuar and long walks exploring the sandbanks are possible.
Diving with Koranu Fyak
Prices shown below are for dives at nearby locations like Cape Kri, Sardines Reef, Chicken Reef ,Chicken Bay, Blue Magic, Mike's Point, Yenbuba Jetty, Cape Mansuar, Cross Over, Koh Island, New Reef, Friwen Bonda, Batu Lima, Meos Kun ,South Kri, Yendabon Reef (Turtle Point), Row Mkun, Ransiwor Reef, Robben's Spot , Otdima. Dives at locations further afield can be organised and cost will depend on distance. Prices are all inclusive, covering diving equipment rental, drinking water and boat hire.
Guests of other homestays are welcome to dive with Koranu Fyak and can join for just a single dive. Just show up. Multiple dive discounts are available to all as in the table below.
| DIVING PRICES | PRICE PER PERSON |
| --- | --- |
| 6 dives | 3,200,000 |
| 10 dives | 5,200,000 |
| 15 dives | 7,350,000 |
| 20 dives | 9,500,000 |
Accommodation and dive packages
Please contact Koranu Fyak directly to enquire about dive and accommodation packages.
Please note: Like almost all homestays, Sundays are a day for church and family obligations at Koranu Fyak. All activities requiring use of a boat are not available on Sundays. It's possible to dive the house reef only on Sundays.
Snorkelling at Koranu Fyak
Koranu Fyak caters primarily to divers and does not offer any snorkelling trips by boat. You can snorkel the house reef for free, and (if boat space permits) snorkellers can join any dive trip to sites suitable for snorkelling. The price for snorkellers accompanying a dive trip is IDR 50,000 per person.
Piaynemo and Fam full day diving tour
These are full day diving tours. They require a minimum of 6 participants to run, must be booked 2 days in advance and cost IDR 700,000 per person (not including dive costs). Tours are in the company of  2 guides and include lunch, tea, coffee and drinking water. Dives are designed to accommodate participants' skill levels and expectations and will be one of the following:
Piaynemo/Manta Point/Melissa's Garden OR Piaynemo/Melissa's Garden/Fam Wall
Koranu Fyak half day diving and sightseeing tours
Batu Lima, Kabui Bay and Passage tour: A half day tour that requires 5 passengers to run and costs IDR 400,000 per person. Divers can use one of their package dives if they wish and snorkelling is free.
Gam Bay/Bat Cave/Hidden Lagoon tour: Half day, minimum of 5 passengers, IDR 300,000 per person.
Manta Point and Arborek Island tour: Half day, minimum of 4 passengers, IDR 250,000 per person
Red Birds of Paradise tour: Boat transfers to join Gam Island Red Bird of Paradise tours are available for IDR 300,000 per person. This does not include the cost of the bird tour, which is paid to the operator on Gam.
Koranu Fyak does not offer Wayag trips. If you want to visit Wayag, use the advanced search on the accommodation page to find homestays offering Wayag trips.
Features
Association member
Large groups OK
Reef dropoff
Western style toilet
For the sociable
Coral
English speaking
Good house reef
Snorkeling equipment
Has email contact
Diving available
Good phone signal
IDR 360,000 to 450,000
Sandy Beach
On site dive centre
Has own speedboat
IDR 0 to 350,000
Has private bungalows
Can pay by credit card
Koranu Fyak Bungalows Location Map
Koranu Fyak Bungalows Contact Details
If the homestay features above do not show that English is spoken, you'll need to use Bahasa Indonesia. In either case, keep it simple! Using the booking form is best for homestays that have one. Please don't use both - confusion will be the only result!.
SMS text message is the most reliable way to make contact.
Many contacts have no permanent access to phone or email - don't expect an instant response to your enquiry.
Please read our How to Book Raja Ampat Accommodation page so you know what to expect.