Friwmunday Wall Homestay
Friwen Bonda - Friwen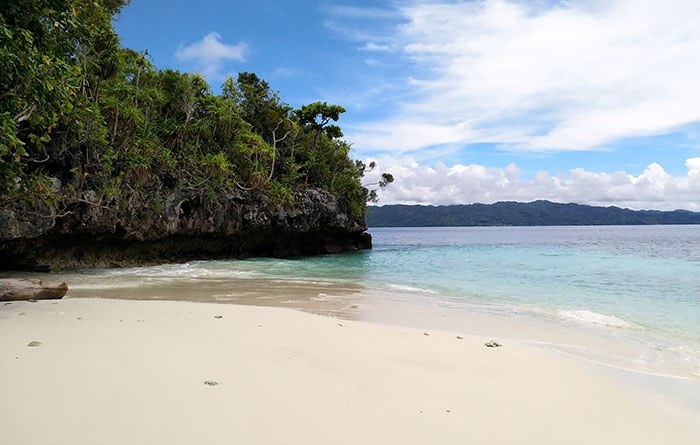 Rooms
2 x On land - Private bungalow
A single room bungalow (no ensuite bathroom/toilet) Sleeps max. 3 persons / room.
Rates
Use the booking form to calculate exact pricing for your booking
Twin share from USD 26.92 per person / night including 3 meals daily
Single occupancy from USD 26.92 per person / night including 3 meals daily
Features
Good phone signal
Reef dropoff
Sandy Beach
Western style toilet
IDR 400,000 to 500,000
Has private bungalows
Details
September 2022: Friwmunday Wall Homestay has not yet reopened after the pandemic. Please contact us if you want to be notified when/if Friwmunday reopens.
Friwmunday Wall Homestay is the only accommodation on Friwen Bonda, an otherwise uninhabited island next to Pulau Friwen.
Friwmunday Wall Homestay has two private bungalows located on the low hill at Friwen Bonda's northern end. One bungalow has ocean views eastward to the sunrise and sits above the calm, white sand beach of Friwen Bonda's eastern shore. The second is above the Friwen Wall but (mysteriously) faces across the island to the east, rather than making the best of the ocean views at its back. Both bungalows have verandahs with seating and a small table. Bungalow bedrooms have mattresses on the floor and bedding includes mattress cover, pillows, bolsters and  mosquito nets.
Meals are served on the bungalow verandahs and drinking water, tea and coffee making supplies are provided free of charge for guests.
A pebble-floored bathroom building houses bucket bathing in one room and a western style toilet in the other.
Electricity is supplied by generator and is available from sunset to around midnight, and Friwenmuday Wall Homestay receives a good phone signal capable of supporting a data connection.
The nearest village is on the neighbouring island of Friwen and is about a ten minute boat ride away if you want to go to the village jetty, rather than just cross the strait and then walk. If you're a competent swimmer, you could even swim across to Friwen – but not while the tide is running!
Only very basic English is spoken at Friwmunday Wall Homestay, so if you don't speak Bahasa Indonesia, bring a phrasebook to ease communication.
As everywhere else in Raja Ampat, inorganic trash cannot be safely disposed of  at Friwen Bonda, so it's essential to take all yours away with you when you leave.
Transport / Getting there
Transport between Friwmunday Wall Homestay and Waisai costs IDR 500,000 each way. Transfers are by longboat capable of carrying up to 5 people and the cost is shared by passengers.
Activities
Snorkel Friwen Wall
When the tide is right, you can simply jump off Friwmunday Wall Homestay's floating dock and drift the entire length of the Friwen Wall – one of Raja Ampat's premier snorkelling and dive sites. Excellent snorkelling can be found all around both Friwen Bonda and neighbouring Friwen Island.
At Friwen, beneath the village jetty is a great place to start. At the western end of Friwen you'll find a fabulous beach, where a few small food and drink stalls are set up in the shade of a tree that overhangs aquamarine waters. A perfect place to relax and take in the sunset after a day spent exploring the village and beaches.
Coconut Crabs!
Friwmunday Wall Homestay owner Otto knows a nearby secret spot where he can introduce you to the world's largest land-living crabs. They aren't often seen any more: Coconut crabs were once extremely widespread and common, but predation by humans has reduced their numbers dramatically.
Tours
Join Otto for a hike to the heights of Friwen Bonda, from where panoramic views across to Gam and Waigeo can be had (see the photos in the gallery above). Friwmunday Wall Homestay can organise snorkelling and sightseeing tours to any locations you might wish to visit. A selection of the possibilities can be found in the table below. Prices are in Indonesian Rupiah and (except where noted) are per trip, shared by passengers. Tours are by longboat and can accommodate up to 5 people maximum.
| TOUR | PRICE (IDR) |
| --- | --- |
| Friwen Bonda panorama walk | 50,000/person |
| Coconut crabs | 100,000/person |
| Red Birds of Paradise (transport only) | 250,000 |
| Meos Pun (Mioskun – Bat Island) | 350,000 |
| Mangrove Passage | 350,000 |
| Yenbuba Jetty | 1,000,000 |
| Arborek | 2,000,000 |
| Kabui Passage | 3,000,000 |
| Batu Pensil | 3,000,000 |
| Piaynemo | 5,000,000 |
Pulau Friwen
See our Friwen Island page for an overview of the island and its attractions.
Friwmunday Wall Homestay Location Map