Batu Lima 2 Homestay
Gam - Eastern Gam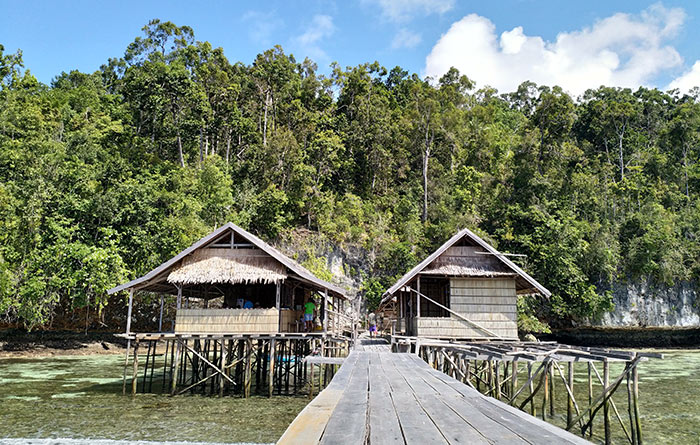 Rooms
1 x Over water - Private bungalow
A single room bungalow (no ensuite bathroom/toilet) Sleeps max. 3 persons / room.
4 x Over water - Room in a bungalow
A room in a bungalow with 2 or more rooms and shared common areas. Sleeps max. 3 persons / room.
Rates
Use the booking form to calculate exact pricing for your booking
Twin share from USD 34.61 per person / night including 3 meals daily
Single occupancy from USD 34.61 per person / night including 3 meals daily
Features
Has email contact
Good phone signal
Good house reef
Quiet hideaway
Has family bungalows
Wayag trips
Western style toilet
IDR 500,000 to 600,000
Details
September 2022: Batu Lima 2 Homestay has not yet reopened after the pandemic. Please contact us if you want to be notified when/if Batu Lima reopens.
Batu Lima 2 Homestay is built over water in front of jungled cliffs near the village of Yenbeser on Pulau Gam's eastern coast.
If you were redirected to this page while searching for Batu Lima Homestay, it's because (as the name suggests) Batu Lima 2 Homestay is the Batu Lima family's new establishment. (The original Batu Lima Homestay has been closed.)
Batu Lima 2 Homestay has two two-room family bungalows and one private bungalow. All bungalows are over water, have glazed windows, lockable doors and private verandahs equipped with tables and chairs.
Bedrooms sleep two on mattresses on the floor, with sheets, pillows, bolsters and mosquito nets supplied. Room light switches and power outlets are fitted.
Meals are served in a spacious over-water dining room that has a large refectory style table and bench seating. Free drinking water and tea and coffee making supplies are provided there for guests. The dining room is surrounded by a covered deck that provides seating and hammocks in which to relax and take in the surrounding ocean panorama.
All guests share a concrete-floored bathroom building that contains a western style toilet and dip mandi (bucket) bathing in separate rooms.
Electricity is provided by generator from sunset to about midnight.
Batu Lima 2 Homestay receives a reasonably strong mobile phone signal, which usually supports a slow internet connection..
Very little English is spoken at Batu Lima 2 Homestay, so if you don't speak Bahasa Indonesia bringing a phrasebook will ease communication.
If you need basic supplies, Yenbeser village is a 10 minute boat ride away, but it's best to bring the consumables you consider essential for your stay with you.
Please take any inorganic waste away with you when you leave. Especially plastic! All trash at Batu Lima 2 Homestay must be taken away by boat, and the lack of recycling (and even safe landfill) in Raja Ampat means that you'll be contributing to the trashing of paradise if you leave your inorganic rubbish for your hosts to dispose of.
Transport / Getting there
Waisai transfers are by speedboat, take around 50 minutes and cost IDR 600,000 each way. Cost is shared among boat passengers (maximum of 4).
Activities
Batu Lima 2 Homestay's ocean location is a snorkeller's delight – be sure to bring snorkelling equipment! Rich reefs surround the homestay and the inshore shallows are calm and safe for supervised children. The reef dropoff is alive with fish and excellent drift snorkelling can be enjoyed when the tide is running. Be sure to occasionally lift your head to see where you are though: Currents can be quite strong and you can easily find yourself facing a long swim back to Batu Lima when the tide is flowing at its strongest.
The jungle that overhangs the ocean from Batu Lima's cliffs are alive with birds, including the brilliant azure and white Beach Kingfishers that can regularly be seen hunting the shallows from the overhanging trees.
Batu Lima 2 Homestay Tours
Batu Lima can organise any snorkelling or sightseeing trip that you want to do. Some of the more popular options are quoted in the table below. Prices are in Indonesian Rupiah, are per boat and are shared among passengers.
| TOUR PACKAGE | PRICE |
| --- | --- |
| Mansuar/Pasir Timbul sandbank | 1,500,000 |
| Kabui Passage | 2,000,000 |
| Friwenbonda (Friwen Wall) | 500,000 |
| Mios Pun (Mios Kun – Bat Island) | 500,000 |
| Piaynemo (Penemu/Fam) | 7,000,000 |
| Sardines Reef | 1,000,000 |
| Kali Raja | 2,000,000 |
| Wayag | 15,000,000 |
Pulau Gam
See our Gam Island page for an overview of Gam and its attractions.
Batu Lima 2 Homestay Location Map