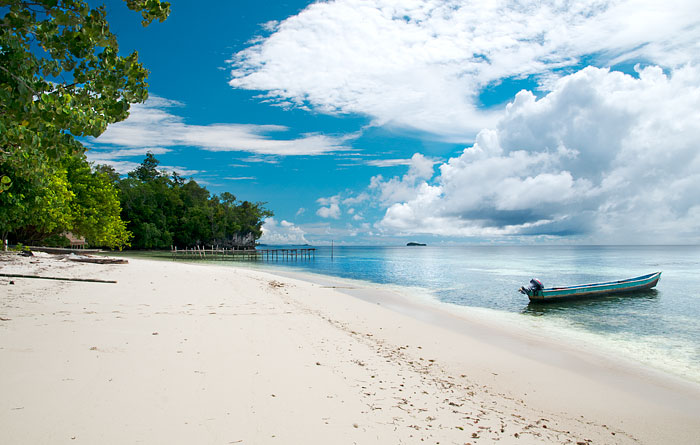 Meot Trairam Homestay
A small homestay on a big beach perfect for swimming and snorkeling. Don't miss seeing Otto's tamed group of giant bumphead wrasse nearby.
Rooms
2 x Room in a bungalow
Sleeps max. 2 persons / room
Rates
Single
IDR 450,000 / person / night
Details
Meot Trairam Homestay shares the same long stretch of white sand as Kordiris, Keruirim and Yendebabo Homestays, occupying a shady beachside setting at the eastern end of the bay near Yendebabo.
The two room bungalow has a double mattress with mattress covers, pillows and mosquito nets in each room. A shared verandah has a table and chairs for meals and a western style pedestal toilet and dip mandi bathroom are housed in a separate outbuilding.
There's good phone reception at Meot Trairam and electricity is provided at night via generator.
Basic supplies are available in the villages of Friwen and Yenbeser, both of which are a 15 minute boat ride away.
Otto and his wife live on site, but don't speak English, so bring a phrasebook if you don't speak Bahasa Indonesia. Maria at Kordiris is available to assist if communication problems arise.
Transport / Getting there
Meot Trairam provides Waisai transfers via longboat capable of carrying up to 5 passengers with luggage. Waisai transfers cost IDR 500,000 each way and the cost can be shared among boat passengers.
Activities
Diving, snorkeling and jungle exploration
Diving trips are organised in conjunction with the nearby Kordiris Homestay.
Snorkelling at Meot Trairam (bring your own gear) is over seagrass and sand until you get a well away from the shore. Snorkelling trips to other great sites are available – see the table below.
The beach itself is sheltered from currents, great for children and provides the opportunity for long walks and visits to the homestays that share the stretch of sand with Meot Trairam. On nights with low tide, you can easily see the iconic Kalabia – Raja Ampat's walking shark. Dugongs can also occasionally be seen grazing the seagrass beds, while the jungle behind the homestay is home to Red Birds of Paradise, giat kenari walnut tress, cuscus, squirrel-like tree rats, lizards, black king cockatoos and the huge nesting mounds of bush fowl.
At the rocky islet near Friwen from which Meot Trairam Homestay takes its name, Otto has tamed a school of large bumphead wrasse. On a sunset trip to the island you can feed the wrasse, see flocks of small birds gather in the trees to roost and wait for the island's huge, night-foraging coconut crabs to emerge.
Meot Trairam snorkeling and tour prices
Prices are in Indonesian Rupiah and are per boat. The price can be shared among passengers and the boat can carry a maximum of six passengers. Bring your own snorkeling gear.
| SNORKELING TOUR | PRICE |
| --- | --- |
| Sawandarek, Pasir Timbul sandbank, Yenbuba jetty and Cape Kri | 2,300,000 |
| Mios Kun and Friwenbonda (Friwen Wall) | 1,100,000 |
| Batu Lima, Friwen and Kandorwai | 1,100,000 |
| Batu Pensil (Kabui Bay) | 2,000,000 |
| Special whole Kabui Bay | 2,300,000 |
| Manta Point and Arborek | 2,300,000 |
| Piaynemo (Penemu/Fam) | 8,000,000 |
| Wayag | 22,000,000 |
Features
Association member
Western style toilet
Seagrass
Hiking available
Has email contact
IDR 450,000+
Calm beach
Diving available
Good phone signal
Sandy Beach
Wayag trips
Meot Trairam Homestay Location Map
Meot Trairam Homestay Contact Details
If the homestay features above do not show that English is spoken, you'll need to use Bahasa Indonesia. In either case, keep it simple! Using the booking form is best for homestays that have one. Please don't use both - confusion will be the only result!.
SMS text message is the most reliable way to make contact.
Many contacts have no permanent access to phone or email - don't expect an instant response to your enquiry.
Please read our How to Book Raja Ampat Accommodation page so you know what to expect.