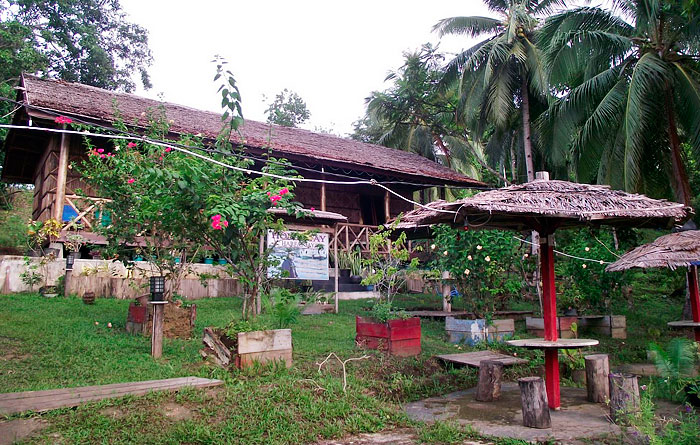 Rooms
1 x Unknown
Sleeps max. 16 persons / room
Rates
Single
IDR 400-450,000 / person / night
Details
Harfat Jaya Homestay can accommodate up to 16 people in 2 large dormitories and two bungalows. The homestay has a permanent electricity supply and the rooms have fans, lighting and comfortable bunk beds. There is one western style toilet, two squat toilets and a shared bathroom with shower.
Harfat Jaya is on Pulau Yapale, next to the village of Harapan Jaya, so several small shops are close by. Snorkelling is available at the door and the homestay has a speed boat available to hire for excursions further afield.
Harfat Jaya Homestay food is basic and the menu is not varied. Meals are based on the staples of rice and fish, but portions are generous and the fish always fresh.
Transport / Getting there
To reach Harfat Jaya Homestay you need to catch a public ferry from Sorong to the village of Harapan Jaya.
NOTE: Ferries are sometimes delayed and schedules can change without warning. It's highly recommended that you check with Harfat Jaya to confirm the following information before making plans!
Two ferries service Misool ports from Sorong. The latest info we have (March 2016) says that the Fajar Indah leaves Sorong at 2300 on Fridays and the Fajar Baru at 2300 on Mondays. Both ships depart from the same dock as the Waisai ferries and the journey takes 8 to 10 hours depending on sea conditions.
John tells us that if you ask for the boats to Fanfanlap or Pelabuhan 35 on Misool, you will be directed to a ferry that stops at Harapan Jaya, despite that port not showing on the ferry schedules.
Fajar Indah returns to Sorong at 1300 on Saturday, while the Fajar Baru continues to Seram before looping back to Misool and departing for Sorong again at 0900 on Thursdays.
Tickets cost IDR 200,000 per person each way. Many travellers choose to pay an extra IDR 300,000 to secure a private cabin with bunk beds. You need to arrive early to pay and secure the cabin key to make sure you don't miss out!
Speedboats can also be chartered for passage to Harapan Jaya. Reader Nicole reported that in December 2014  a speedboat charter from Sorong to Misool cost IDR 35,000,000 (about USD 3,500.00!!) each way.
We recommend contacting either Harfat Jaya or the Sorong tourism office owner for up to date information.
Activities
There's a lot to see near Harfat Jaya – check out Dmitry Telnov's Panoramio albums for photos of the surrounding area and read about nearby attractions on our Land Based Adventures page.
John Drabble, who provided the info for Harfat Jaya tells us that they can organise diving and tours, but no detailed information is available yet. See ares' comment below for more info about those.
Features
Near village
Association member
Large groups OK
Western style toilet
English speaking
Good house reef
Diving available
Has own speedboat
Harfat Jaya Homestay Location Map
Harfat Jaya Homestay Contact Details
If the homestay features above do not show that English is spoken, you'll need to use Bahasa Indonesia. In either case, keep it simple! Using the booking form is best for homestays that have one. Please don't use both - confusion will be the only result!.
SMS text message is the most reliable way to make contact.
Many contacts have no permanent access to phone or email - don't expect an instant response to your enquiry.
Please read our How to Book Raja Ampat Accommodation page so you know what to expect.
| | |
| --- | --- |
| Name | Pak Harun (Aaron) |
| Phone | +6281344353030 |